Shanti Rao performing at the Indian fine arts society in 2004.
Vidhushi Shanti Rao of Bangalore, is a vibrant veena artist both at home and abroad as seen from the numerous eulogistic media reports. Her performances have been praised not only for pure classicism and virtuosity of play but also for aesthetic and captivating rendition of raga, kriti and swara. Given below is a short introduction to the beginnings of her successful career.
Vidhushi Shanti Rao began her long and successful musical voyage at a tender age of 12. She learnt vocal music from T. A Venkataramayyar, and veena from Harihara Ayyar in Madras. In 1969, on moving to Bombay, her ears fell on the sounds of the veena being played by none other than veena maestro Chitti Babu who was later to become her guru. "I had never heard the veena being played that way". That turned her from being a passive listener to an avid player" She began studying the veena under the tutelage of Chitti Babu.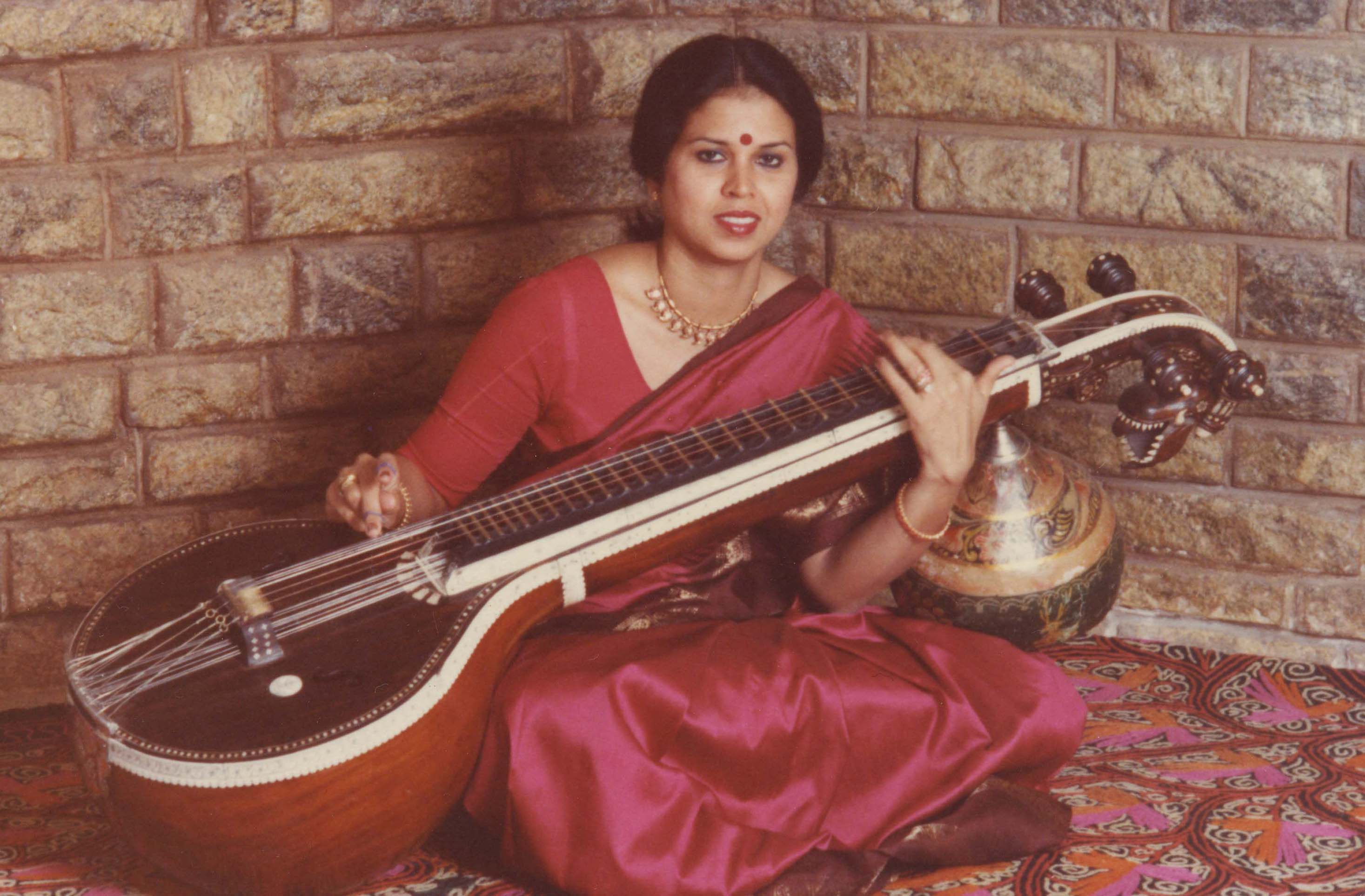 On moving to
Bangalore
in 1973, she commuted to
Madras
for veena lessons with Chitti Babu, while also learning vocal from
R.K
Srikantan
and veena from
R.K
Suryanarayan
and
Pallavi
Chandrappa
in
Bangalore
. In 1976, she made her solo veena debut at the Ramanavmi celebrations in Chamrajpet. Since then, there has been no looking back for this vibrant veena player.
Vidhushi
Shanti
Rao
has mastered the art of traditional and contemporary styles of the veena.
Perfomances abroad
Shanti Rao toured around the world winning the hearts of both Indians abroad and people unfamiliar with Indian classical music and/or the divine instrument. Having toured Singapore, Indonesia, Malaysia, U.K, Germany and the U.S.A several times, she has become a popular ambassador to her country, having performed at important functions and centers. She has had the privilege of performing before Queen Elizabeth II.
Shanti performing for CAMAGA, Atlanta GA (2004)
On her tour of the U.S, she performed in 30 cities and was repeatedly invited to perform in U.K for three consecutive years where she enthralled audiences with her rhythm and electrifying fast paced hand work. On another tour, she visited
Cornwall
, a small town in
U.K.
She recollects that the town was so small, she had her doubts whether the crowd would appreciate/ understand the intricacies of her music. That night, she received three standing ovations and is still talked about in the village some three years later. She fondly remembers the constable on her beat applauding her on the streets for "a very nice concert ma'am."
Perfomances at home
Back at home,
Shanti
Rao
has performed in the most prestigious sabha's having received praise, accolades and innumerable media reports (read "Press releases").
From having bagged the prestigious
Madras
Academy
award as early as 1980 for "Best debutante" to the "Best veena player" in 1996 from the Indian Fine Arts Society,
Shanti
Rao
remains dedicated to the veena's traditional form and style.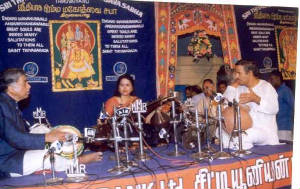 Thyagaraja Aradhana ,Tiruvaiyaru (2003)
The Pulse team: eclectic music
Shanti Rao and Siva Mani
Blending the old with the new
Leaving no stone unturned, Shanthi Rao effortlessly blended the old with the new and the East with the West. Although very loyal to the traditional style of the veena, she has innovated on the veena's contemporary styles to perform fusion styles with some renowned artistes such as percussionist Trilok Gurtu of Germany, the ace pianist Mervyn of U.K, Guitarist Jery Demos of Germany and the popular percussionist Siva Mani, having performed in various shows from Jazz Yatra festival in Bangalore to UK and Germany. Shanti Rao played the Veena for musical directors Hamsalekha and R.N Nagendra for which she changed her instrument incorporating a blend of Mysore and Tanjore styles.
Shanti remains dedicated to the traditional form of veena which she has innovated to keep with the changing times. Her innovation; "the double string veena" (read "The double string veena") received acknowledgments for its wonderful tonal quality. Having received praise from greats like Kunnakudi Vaidyanathan, Balamurali Krishna, this vibrant veena player has 7 albums and 2 fusion music albums under her belt.
Vidhushi Shanti Rao is a visiting professor of Music at Bangalore University. She also teaches music at her very own school "Veena Vani school of music" Indiranagar, Bangalore. Shanti has an attitude that is raring to go to create that extra "special" that would strike a rhythm with the people.